JKA-Malta is an independent organisation established in 2001 to represent and promote JKA Karate-Do in the Maltese islands.
JKA MALTA (Japan Karate Association Malta) and its Logo are Trademarks (TM/48337) registered in the name of:
JKA (Japan Karate Association)
23-15, Kouroku
2 chome, Bunkyo-ku
Tokyo 112-0004
Japan
JKA Malta is directly affiliated to and recognised by the Japan Karate Association/ World Federation as well as the Malta Sports Council (Kunsill Malti ghall-iSport) registration number KMS/A-160/11
Its raison d'être is to keep alive and propagate the JKA KARATE TRADITION in an age when emulations and variants are more numerous than ever.
JKA-Malta focuses on the proper passing-on of the ART of Karate-Do.
Grading requirements
The Japan Karate Association have some of the strictest requirements for Dan grading, to ensure consistent quality throughout the more than 100 countries in which it is represented. It is just not the case that grades are 'awarded' if not for actual competency.
JKA Examiners must possess proper grading licenses, obtained after specific theoretical and practical examinations. The allowable Examiner's Licence Rank, according to dan grade is:
D class = 3 DAN (25 years old or older);
C class = 4 DAN;
B class = 6 DAN;
A class = 7 DAN
These licences must be reviewed and renewed or upgraded every 3 years.
The minimum examiner's rank required for a JKA-registered dan grading is:
To grade a JKA SHODAN, the Examiners required are 1A Class or (1B + 1C) or above
To grade a JKA 2 DAN, the Examiners required are 1A or (1B + 3C) or above
To grade a JKA 3 DAN, the Examiners required are (1A + 1B) or above
To grade a JKA 4 DAN, the Examiners required are (1A + 2B) or above
To grade a JKA 5 DAN, the Examiners required are (2A + 2B) or above
For example: In order to be able to grade a student to 1st Dan, a single grading examiner must be as a minimum a 7th Dan and the holder of a current Examiner 'A' licence.
Otherwise there must be a 6th Dan with a B licence and a 4th Dan with a C licence.
This is unfortunately a far cry from what happens in other organisations…that is why any Dan grade is seldom equivalent to a JKA Dan grade.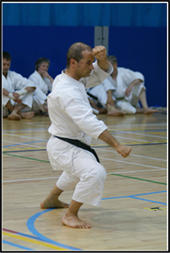 Expectations:
What can you expect from JKA-Malta?
Our GOALS, for which we strive tirelessly, are:
Genuine and up-to-date JKA Karate instruction;
Technical excellence and expertise;
Comprehensive training sessions;
Respect of your persona and of your time;
A safe and friendly environment;
Professionalism and reliability.
What is expected of you on joining?
Four things:
ATTENDANCE: You are expected to be committed to your karate training, and to attend classes on a regular basis _ Your regular presence is important to your fellow students.
EFFORT: You are expected to give your maximum effort to your karate training, and to work hard during practice _ The faster your progress, the better for your club.
RESPECT: You are expected to demonstrate the respect, humility and courtesy upon which karate's long-standing tradition is based.
INVOLVEMENT: You are expected to share the burden and contribute with your fellow members to cover club expenses.
Club Contacts:
Hamrun: +356 9947 8306
St. Julians: +356 9947 8306
Naxxar: +356 9927 9917
Msida: +356 9927 8680